The Doctors Who Knows No Borders

Nissan's quality inspectors are automotive physicians who jet around the world to ensure that its parts suppliers all make the grade.
Doctors treat patients. They battle every kind of malady. They carry out medical care through examinations and checkups, give out prescriptions for medicine and perform operations... Nissan staff also work as tenaciously as doctors. To deliver automobiles always of the highest quality for their customers, they too make house calls out to primary, and even secondary parts suppliers: The curing and healing they do is upgrading and improving vehicle parts.
A car is in fact just an accumulation of tens of thousands of parts and, unless every single one is watertight, drivers won't trust their car. One screw can literally determine the quality of a whole vehicle.
Nissan's manufacturing bases are all over the world: Japan, America, Europe, Mexico, Thailand, India, China, South America, and more. Its parts suppliers are also scattered across the globe, numbering some 5,000 different companies. But wherever they are made, from whichever supplier they are procured, Nissan's car parts maintain the highest level of product quality standards. The reason? The Purchasing Monozukuri Support Department, who mediate between Nissan's design and production teams (the "monozukuri", or building, folk), and its numerous suppliers.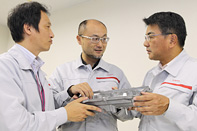 The job of this department is just like a doctor's. They use a global scorecard and select a top-level supplier to carry out a medical-style checkup. If this is a new supplier they will fly out to pay a site visit, internationally if needs be, and do a hands-on examination. The majority of suppliers are given the all-clear in their pre-check, but in the unlikely case of discovering a micro-level illness, they initiate a thorough recuperation program. After all, both Nissan and the supplier want a win-win relationship.
It's not just top-level suppliers either; the inspectors also perform diagnostic checks on secondary, and even tertiary suppliers. They assess quality, cost, development, delivery and management, all to seek out the top level that Nissan demands.
This team of doctors is made up of around 50 special members of staff who have passed through a tough internal recognition system. They even have medical licenses, divided into wards like "car body", "engine", and "electrical parts". The person with that certificate is an expert in their field.
Appraising and supporting suppliers is Nissan's responsibility to its products, its mission: Delivering drivers all over the world with vehicles of unquestionable quality. To do this, even today the Purchasing Monozukuri Support Department medics are racing around the globe.