Using digital technology to enhance precision
Nissan aims to develop new cars and technologies with no quality issues in any onboard systems or components. This makes product quality design technology particularly important when developing new systems and components.
To ensure high-quality system and component design, we established the Nissan Monozukuri Quality Framework (NMQF) as a framework for product quality design, and have engaged in systematic initiatives in this area. For product development phase in particular, we are continuously establishing and revising standards for quality design technology which are then applied to new cars and features. With a focus on design review, we have also taken actions organizationally to strengthen our ability to identify hidden quality risks in new designs and take preventative action.As new technology is adopted, cars come equipped with increasingly advanced features, increasing technological complexity. At the same time, the expansion of sales regions results in more car models being sold at multiple locations, which means that design engineers must assume that cars will be driven all over the world as they seek to improve quality. To respond flexibly to these changes, Nissan has improved product quality design technology in the areas of processes, engineering skills and technology. The results are clearly visible in the steady improvement in quality that characterizes Nissan's new cars and technologies.
Product quality design and evaluation technology
Development of new vehicles and technology features based on customer feedback
To understand how customers feel about Nissan vehicles, design engineers hold regular meetings with Nissan owners to listen to their suggestions and complaints. At these meetings, design engineers explain the aims of new performance features and operations directly to the customers. If any performance features or operations do not meet our customers' expectations, we rapidly take action to resolve this and take it into account when developing other new models. In this way, customer feedback is put to use in the development of new vehicles and technologies.
Developing durability for all driving environments
Customer expectations for durability have been increasing year by year as the average vehicle ownership period grows longer. To ascertain the adequacy of durability as rapidly as possible, Nissan not only responds to customer feedback, the company also continuously conduct used vehicle surveys and actual vehicle driving evaluations. In addition, to ensure that Nissan vehicles can be used with confidence in the usage environments of customers around the world, we evaluate the durability of Nissan vehicles in a range of driving environments and conditions, including high temperatures and humidity, extremely low temperatures, salt damage, high altitudes, and steep inclines. The insight gained from used vehicle surveys and actual vehicle driving evaluations is reflected in the design and evaluation standards for new vehicle and durability quality, and put to use in periodic revisions.
Expert teams for quality design, evaluation standards and knowledge accumulation
Developing quality design techniques and maintaining a stock of design standards
Continuous and comprehensive quality improvement cannot be achieved simply by repeatedly making individual improvements to address customer feedback. Nissan believes that it is accumulated quality improvement knowledge that leads to fundamental solutions to quality problems, and for the past 10 years we have focused on developing quality design technology.
Experts in every technical area, including powertrain, body, chassis, interior and exterior components, and electrical and electronic components, analyze the root causes of quality technology issues in Nissan vehicles identified for quality improvement, and continually drive initiatives to develop quality technique solutions as fundamental corrective measures. Challenges for quality techniques are comprehensively identified by statistically analyzing information on repairs of failures in all Nissan vehicles around the world. We also conduct surveys of customers who have purchased Nissan vehicles to identify challenges for quality techniques related to usability and operability.

Usability and operability improvements
The center console has a cup holder, shift lever and various switches, and the layout affects usability and operability. Nissan strives to improve console usability and operability by setting standards including an ergonomically designed cup holder layout to ensure that drivers can intuitively pick up a cup from the holder while driving.
Switches that are frequently operated during driving are centralized in the steering wheel switch layout. The design incorporates differences in switch shape, height, size and arrangement so that they can be operated intuitively without looking directly at them.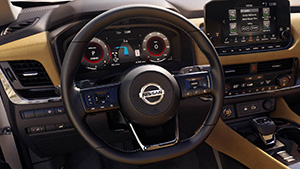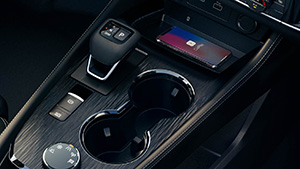 Reliability Assurance Standards for shift levers and steering wheels
The importance of durability is increasing as vehicle ownership periods lengthen year by year. Nissan focuses not only on fundamental performance issues such as driving, turning and braking, but also on the durability of the interior, which customers touch directly. For the outer covering and metal plating on shift levers and steering wheels, we design and conduct tests to evaluate durability for the anticipated duration of ownership, to prevent deterioration of look and feel during the car's lifespan.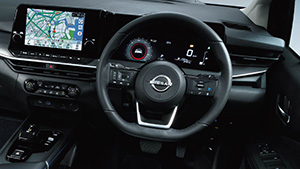 A quality check system that catches even the smallest quality issues
Nissan's unique design review system
Design review (DR) is a process for reviewing the quality of components and systems. Nissan has established its own DR system in which design experts can thoroughly identify potential risks for each component and incorporate measures to prevent quality problems before they occur. In recent years, new technologies related to electrification, intelligence and connectivity have been expanding, and we are strengthening our review process in each specialized technological domain. For new technologies adopted for the first time in the world or the first time at Nissan, we apply Full Process DR using Failure Mode and Effects Analysis (FMEA) as a tool to predict issues. For existing technologies, we apply Quick DR using Design Review Based on Failure Mode (DRBFM) as a tool to identify the risks of changes. Nissan carries out DR activities throughout the entire process, from the design concept phase to the beginning of mass production. Design, testing and production engineers work together to undertake comprehensive DR activities to control variation in important control characteristics and manage processes.
Global engineer skill development through DR certification
For proactive prevention of quality issues in new technologies, what is needed is not just a DR system but also the development of engineer skills for correctly understanding and executing these structures, processes and standard tools. At Nissan, we have created an engineer skill development program based on a DR certification system and are now rolling it out globally. More than 150 certified DR reviewers are actively conducting design reviews at present.
Verification of electronic and electrical circuits and software
As vehicles have become more multifunctional in recent years, the circuits of their electrical and electronic components have become extremely complex. In order to prevent quality problems related to electrical and electronic components, Nissan creates prototype models for all electronic and electrical circuits to be mounted in vehicles and verifies their operation in the early stages of development.
This verification phase, called Electric Integration PlatForm (EIPF),* ensures that the system functions as expected no matter what kind of operation is performed. It checks for malfunctions as well as whether the system functions as intended when subject to multiple operations at once or more operations than expected.
Recurrence prevention measures
Nissan analyzes and investigates the root causes of all quality problems that have occurred in the market to date, then applies the results to craft measures to prevent recurrence. The development and production divisions investigate not only direct causes, but also the root causes that triggered the problem from both technological and systemic perspectives. The quality division then reviews the recurrence prevention measures from a comprehensive and objective perspective to determine more robust measures to prevent recurrence. In addition, in order to identify measures to prevent recurrence of all quality problems, we have standardized and implemented a companywide review perspective.
To ensure that similar quality problems do not recur in other models and in subsequent new vehicles while preventive measures are being developed, the number of days required to decide on preventive measures and effect horizontal deployment is strictly controlled. This allows us to quickly provide feedback on measures to prevent recurrence to subsequent new vehicles, thereby preventing similar problems from occurring.
The lessons learned from the process of examining measures to prevent recurrence are stored in a standardized form established internally and deployed throughout the company in an effort to prevent recurrence on a permanent basis.