Improving Logistics Quality
Delivering a high-quality car to the customer as it was when it left the plant
Every car is produced with meticulous care. Completed vehicles are shipped from Nissan's plants only after inspections, test drives and other quality assurance measures. But Nissan's quality initiatives go far beyond this.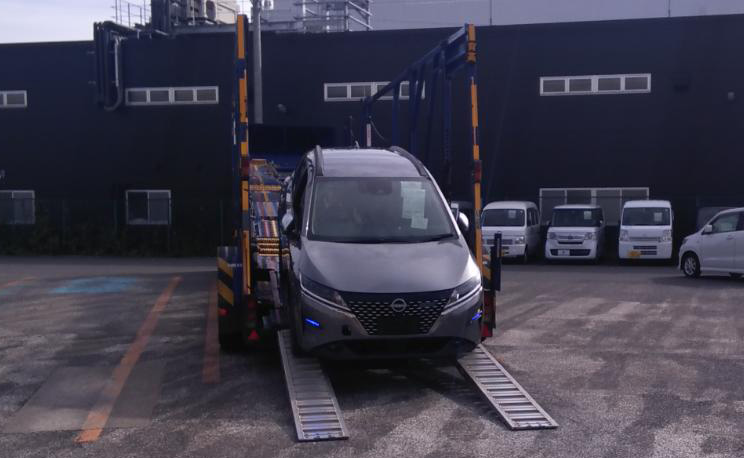 Nissan vehicles that are manufactured in Japan, including at our Tochigi, Oppama and Kyushu plants, are transported to service centers via a distribution network that spans the country. At these centers, they receive final servicing and inspection before delivery to customers through dealers. To ensure that cars reach customers in the same pristine-quality condition as when they leave the plant, meticulous care is taken to ensure that they are not scratched or otherwise damaged when they are moved within the plant or loaded onto trailers and ships for transport.
We also keep transport routes inside plants and service centers in good condition, checking for and repairing cracks in floor surfaces and other problems, to prevent any issues arising.
Detailed standards are followed at every step in the distribution process to maintain vehicle quality. Processes are carefully managed, with detailed rules that cover how vehicles are stopped, the clothing worn by staff when they handle cars, how staff get in and out of vehicles, and even requiring keys to be placed on the passenger's seat.
The service center is where the very last quality checks take place. Almost all the work, including installation of dealer option parts and final quality checks, is done by specialist staff rather than robots or machines. All staff have solid, relevant expertise and skills, and work according to manuals formulated to assure quality.
Nissan ships over 2,000 vehicles a day. Each of these cars is made with painstaking care and delivered to the customer in exactly the state in which it leaves the plant.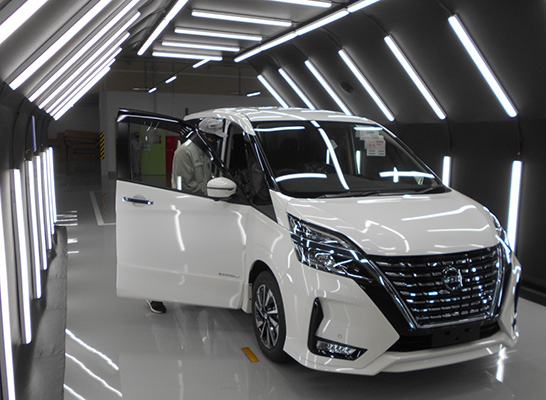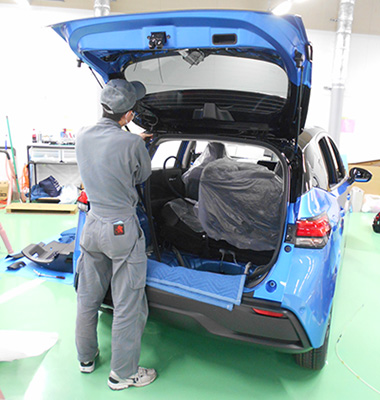 When vehicles arrive at the service center, they are washed, fitted with dealer option parts, and serviced for delivery. Importantly, the specialist staff in each location who perform this series of tasks not only have solid expertise in the cars' construction and the skills to match, they are also consistent and strict about following the rules.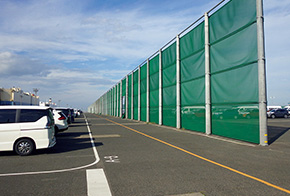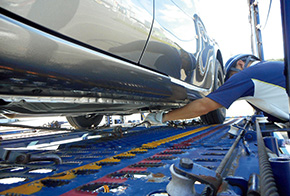 Since the cars are temporarily parked outside, care must be taken to protect them from wind-blown gravel.
Left: A wind protection net set up to protect car bodywork and glass from damage caused by gravel and other items that could be blown by strong winds Right: Cars being visually inspected for damage that could have occurred before shipping
Nissan will continue striving to achieve ever higher quality assurance standards by deploying cutting-edge technology like the Auto Vehicle Inspection System and Autonomous Sweepers.