Through robust partnerships with suppliers,
Nissan is improving its quality component by component
The ability to consistently source precision-built components defines the quality of the car
A car is complex product made up of a huge number of components—as many as ten thousand of them. In Nissan's case, suppliers*1 may provide up to 70 or 80 percent of those parts. Currently, we source components from around five thousand suppliers. To raise the quality of the final product, we need to maintain the quality of each component. Nissan's SQA*2 activities ensure that we consistently receive high-quality components from suppliers.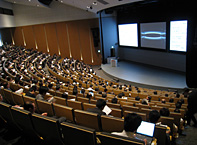 *A supplier is a vendor or a company/manufacturer providing parts to a manufacturer.
*SQA, or Supply Quality Assurance, refers to the detailed protocol Nissan employs to maintain and improve the quality of components from its suppliers.
Aiming for equal and robust partnerships
To secure a consistent supply of high-quality components, Nissan partners with strong and reputable suppliers. Through our SQD (supply quality development) activities, we treat our suppliers as equal business partners to achieve a mutually profitable relationship. We work closely with suppliers around the world to promptly improve the quality of the parts we purchase.

Setting a world standard with global management
Nissan's suppliers are located around the world. From an early stage, Nissan established global standards for supplier quality and clarified the quality assurance of each component. We have also rapidly strengthened our global management system in relation to our suppliers. This lets suppliers from all over the world, with varying cultures and customs, provide components that comply precisely with Nissan's strict quality standards.