NISSAN Mobile Classroom
Nissan is offering three types of mobile classroom programs to support the education of elementary school students in higher grades as one of the company's important social contributions. The hands-on, experience-oriented programs are full of the kind of unique Nissan know-how that inspires kids to think creatively. For schools abroad interested in the programs, please contact NISSAN_SR@mail.nissan.co.jp for details.

The Nissan MONOZUKURI Caravan for 5th graders in Kanagawa, Tochigi and Fukuoka prefectures allows students to learn the importance and fun of the art and skill involved in the manufacturing process right in the classroom.
Monozukuri, the Japanese term for 'the art of making things'

The Nissan Design Waku Waku Studio brings designers to nation's school children.
The car designers from Nissan Global Design demonstrate the pleasure of design work and the career story.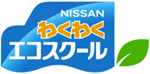 The "Nissan Waku Waku Eco-School" for 5th and 6th graders in and around Kanagawa Prefecture aims to raise environmental awareness by having students learn about environmentally friendly cars of the future through both teaching and hands-on experience.